About
Hello, I'm James. I have decided to run the Wigan 10k for Friends of Young Carers. Friends of Young Carers is a Wigan based charity, who work with young carers, to increase or maintain their physical and emotional state, through support and guidance. The charity was introduced to me through a Christmas party, which was held at my church, to help the young carers have a break & spend time with their age group. Throughout the night, I noticed the excitement on their faces, which allowed me to understand how much they appreciated that break away, to just be themselves. Without this charity, some of the young carers within the borough of Wigan, would feel lost and trapped. However, with this charity, those feelings are combated, just by the care and guidance they provide, which also allows young carers to continue caring for their loved ones. Therefore, on Sunday 7th September, I am taking a personal big step & running the Wigan 10k. I am blessed to have good health & an ability to run, to raise funds for a worthwhile charity. Please give what you can, as I am more than sure it will be beneficial. Thank you!
Donations
Sarah Griffiths
03 Sep, 2014
Paul Carroll Top Donor
03 Sep, 2014
Paul Carroll Top Donor
03 Sep, 2014
James's fundraising stats
| | |
| --- | --- |
| Online donations: | £65.00 |
| Match funding: | £0.00 |
| Raised offline: | £105.00 |
| Gift Aid: | £0.00 |
| Total raised: | £170.00 |
James is fundraising for Wigan and Leigh Carers Centre
Supporting and providing respite for Young & Adult Carers in Wigan and Leigh Borough
Find out more about the charity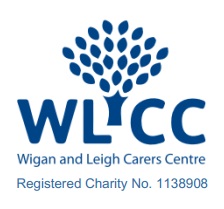 Photos
James hasn't uploaded any photos yet.
You can add additional photos to your page to help tell your fundraising story.